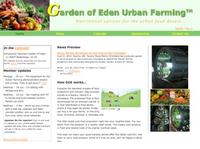 The Garden of Eden is an innovative new approach to urban farming, and offers a holistic approach to food access and community nutrition policy; to better community health, ecological integrity, food education, skills training, local job creation and the development of complete communities.

The program will grow affordable, organic herbs, fruits and vegetables all year round. The fundraiser is the first in a series of events that will highlight the importance of our communities' access to fresh affordable organic fruits and vegetables.


The program grew from a senior project at Evergreen State University by founder Michael Twiggs of Seattle, who is also one of the publishers of AABL.


How does "urban farming" work? Consider the standard process of food production and delivery. Raw produce travels to a factory, where it is processed. The processed food is then warehoused for an unknown period. It is then distributed to food stores, where it may again be stored. Finally you buy it for your family. In this long chain of events, nutrition is inevitably lost.


The GOE model puts food production right into your neighborhood. You buy either from the producer or a nearby retail outlet. This means your produce is fresh and retains most of its original nutritive value.


This does not mean your supermarkets cannot offer this better nutrition. Just ask them to carry local produce along with their regular offerings. Your thoughtful purchases will make the difference.


The program was introduced in 2012 at a kickoff presentation hosted by Tacoma, WA, Mayor Marilyn Strickland, who has endorsed the program along with Dr. Maxine Mimms, a prominent local educator.


There are many advantages of urban hydroponics, according to Twiggs, including a year–around growing cycles as a sustainable business model, new technologies for growing organic foods at much lower cost , new work opportunities for local residents and the impact on our communities needed economic revitalization.