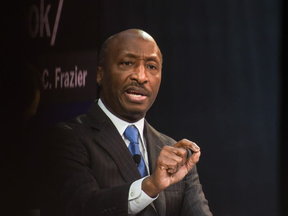 Executives of Johnson and Johnson and Merck Pharmaceuticals joined US President Joe Biden 10th March to announce their joint venture to produce 100 million additional doses of the single-dose J&J Covid-19 vaccine. Present were Biden, Alex Grotzky of J&J and Kenneth C. Frazier of Merck.
Frazier is the chairman and CEO of Merck & Co. (known as MSD outside of North America). After joining Merck & Co. as general counsel, he directed the company's defense against litigation over the anti-inflammatory drug Vioxx. Frazier is the first African American man to lead a major pharmaceutical company (part of the Fortune 500 companies). He was elected to the American Philosophical Society in 2018. (After Wikipedia)
The JV is expected to help achieve the administration's newly revised goal of producing enough doses for all US adults by end of May and vaccinating all US adults by early summer.
As the US vaccination effort winds down, production will likely continue at plants around the world for further distribution, whose details are still being debated.